Himalayan Pink Rock Salt
Is pure, hand-mined salt found naturally; deep within the pristine Himalayan Mountains. Himalayan salt is a marketing term for Halite (commonly known as rock salt) from Pakistan, which began being sold by various companies in Europe, North America, and Australia in the early 21st century. It is mined in the Khewra Salt Mines, the second largest salt mine in the world, located in Khewra, Jhelum District, Punjab, Pakistan, about 300 km from the Himalayas, about 160 kilometres from Islamabad, and 260 kilometres from Lahore, and in the foothills of the Salt Range where Yaks are loaded with Salt and brought off the mountains. Crystallized more than 200 million years ago, ancient sea beds were covered by volcanic lava, protecting the salt from modern-day pollution, and lending to the belief that Himalayan Pink salt is the purest salt to be found on earth.
Searching for a pure, gourmet salt that also delivers amazing health benefits? Himalayan Pink Salt is one of the purest salts found on earth. When it comes to purity and mineral content, no other salt compares. Praised by health and culinary experts for centuries, Himalayan Pink Salt delivers many healing benefits to the body, including lowering blood pressure, improving circulation and detoxification from heavy metals.
Himalayan Pink Salt offers an intriguing glimpse at mineral packed crystals, which formed naturally within the earth. The many hues of pink, red and white are an indication of this salt's rich and varying mineral and iron content. Incorporate Himalayan Pink Salt into your culinary presentation; use it in a clear salt grinder so your guests can experience all the sensory delights of this amazingly pure flavor enhancer. Use it liberally in pickling brines, or try your hand at salt-roasting fish or chicken for a moist and flavorful result.
The same replenishing nutrients that make Himalayan Pink salt prized in the gourmet world makes it an absolute treasure as a bath salt. Naturally rich in 84 nourishing and skin-replenishing minerals, bathing with Himalayan Pink bath salt is truly a renewing and therapeutic experience for mind & body. This 250 million year old, Jurassic era sea salt is known for its healing properties and is used by health professionals, spas and individuals who are interested in utilizing natural products to heal the body and relax the mind.
Himalayan Pink salt's vivid pink color is a result of the trace elements in the salt, including energy-rich iron. These naturally present minerals (84) are essential for human health, which can be consumed and can be readily absorbed through bathing therapies. Himalayan salt has long been praised for its healing benefits; and is known for stimulating circulation, soothing sore muscles, helping to reduce acid reflux, lowering blood pressure, and removing toxins.
Himalayan Pink Crystal Salts are the very same therapeutic salts as the Himalayan Pink salts, but come in chunks from 10 to 60mm in size. These crystals are often used for Himalayan Sole (so-lay), a mixture (approx. 16 oz. to 1 tsp.) of water and Himalayan crystals. The 84 bio-available trace minerals in the sole are believed to help balance the body's alkaline/acidity, normalize blood pressure & dissolve and eliminate sediment, which in turn detoxifies the body. Believed also to relieve muscle spasms and cramps. Himalayan salt crystals are also used as potpourri for decoration, essential oil diffusion and air purification by producing negative ions when heated (Salt Lamp).
More recently, large crystal rocks are also used as Salt lamps. A salt lamp is a lamp carved from a larger salt crystal, often colored, with an incandescent bulb or a candle inside. The lamps give an attractive glow and are suitable for use as nightlights or for ambient mood lighting.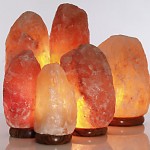 Himalayan salt is called white gold because it contains ions of stored sunlight. Since it came from the undeveloped regions of the Himalayas, you can be sure that it contains the natural elements( 84 minerals) that can be found in the original, primal ocean. It has the essential minerals that are found in the body. Together with water, the stored primal energy in the salt can bring pure crystal of energy to the body.
This pure crystal has been exposed to earth pressure for millions and millions of years ago. And this pressure has perfected the geometric crystalline structure of Himalayan pink salt. The more perfect the geometric shape of the crystal, the more its energy content. And with this shape, the body can easily absorb this salt.
Compared with common salt, the crystals of common table salts are unnatural. Kosher salt is the same as table salt only larger coarse grains.  They are totally isolated and dead. To be able to be consumed by the body, the cells need to exert a big amount of energy. This results into great damage to the body but only recieving 2 minerals with zero gain. Table Salt should be for use outside the body! Table salt contributes to Heart disease which is the leading cause of death! Sea salt has the same amount of sodium as table salt!
Comparing it with sea salt, the sea salt has irregular crystalline structure. The minerals are way isolated with the other natural elements of the salt. It is for this reason that the body needs a lot of energy to metabolize but with lesser gain in absorbing the minerals.  Also you should consider the contaminents attached to sea salt.
The Himalayan pink salt has balanced crystalline. The crystals are not isolated from the 84 natural minerals. They are connected in such a very harmonious condition. This structure makes the energy balance; thus, absorption by the body is quite easy. The crystals provide primal energy to the body. The result is purely gain for the body with no energy loss.
Natural unprocessed salt, such as  Himalayan pink salt, contains about 84 percent sodium chloride (just under 37 percent of which is pure sodium). The remaining 16 percent are naturally-occurring trace minerals, including silicon, phosphorus, and vanadium
Processed (table) salt contains 97.5 percent sodium chloride (just over 39 percent of which is sodium). The rest is man-made chemicals, such as moisture absorbents and flow agents, such as ferrocyanide and aluminosilicate.
Besides the basic differences in nutritional content, the processing—which involves drying the salt above 1,200 degrees Fahrenheit—also radically and detrimentally alters the chemical structure of the salt.
For a frame of reference, one teaspoon of regular table salt contains about 2.3 grams of sodium. According to some estimates, Americans get roughly four grams of sodium per day, which has long been thought to be too much for heart health.
To your Wellness. Back to top