Overview Information on Prostate   
Natural Remedies for Enlarged Prostate (BPH)
Written by Stephanie Watson and Tricia Kinman
Medically Reviewed by Steven Kim, MD on April 8, 2015
Additions by WellnessWillpower
SHARE
Enlarged Prostate
Treatment Options
Saw Palmetto
Beta-sitosterol
Pygeum
Rye Grass Pollen Extract
Stinging Nettle
Foods
Considerations
Part 1 of 9: Enlarged Prostate
The Prostate Grows
The prostate is a walnut-shaped gland that wraps around the urethra (the tube that outflows urine). It's part of a man's reproductive system. One of its main jobs is to add fluid (called semen) to sperm. Although the gland starts out small, it tends to enlarge as a man ages. (30 to 90 yrs) An excessively enlarged prostate results in a disease known as benign prostatic hyperplasia (BPH). Eventually, an enlarged prostate can clamp down on the urethra, restricting the flow of urine from the bladder. This leads to problems such as frequent urination, difficulty in voiding, urinary leakage, and urinary tract infections.
Part 2 of 9: Treatment Options
Enlarged Prostate Treatments
There are several treatment options for an enlarged prostate. Men can take alpha blocker drugs such as to help relax the prostate muscles, or antibiotics for chronic prostatitis (which may occur alongside BPH).
alfuzosin (Uroxatral)

doxazosin (Cardura)

silodosin (Rapaflo)

tamsulosin (Flomax)

terazosin (Hytrin)
They can also take a type of steroid reductase inhibitor. Dutasteride (Avodart) or Finasteride (Proscar) for reducing BPH symptoms.
They might also undergo surgery to remove the extra prostate tissue.
In addition, there are also natural remedies that work to combat prostate growth. However, the evidence is debatable on whether these treatments work. The American Urological Association currently does not recommend any herbal therapy for managing BPH. If you do want to try any of these natural remedies, talk to your doctor first.
Part 3 of 9: Saw Palmetto
Saw Palmetto
Saw palmetto is an herbal remedy that comes from a type of palm tree. It's been used in traditional medicine for centuries to relieve urinary symptoms, including those caused by an enlarged prostate. According to the National Institutes of Health (NIH), a few small-scale studies have suggested that saw palmetto might be effective for relieving BPH symptoms. Look for "Supercritical Co2 Extraction." This technique delivers a superior quality extract that is highly concentrated with incredible purity.
However, the NIH reports that when larger studies were conducted, they didn't find saw palmetto any more effective than an inactive pill (placebo). Saw palmetto is safe, though, and it doesn't cause any serious side effects. German studies have more positive results.
Part 4 of 9: Beta-sitosterol
Beta-sitosterol
This prostate remedy is a mixture taken from different plants that contain cholesterol-like substances called sitosterols. Several studies have found that beta-sitosterol can relieve urinary symptoms of BPH, including the strength of urine flow.
There haven't been any major side effects reported with the use of beta-sitosterol, although doctors still don't know all the long-term effects of this natural remedy.
Part 5 of 9: Pygeum
Pygeum
Pygeum comes from the bark of the African plum tree and has been used in traditional medicine to treat urinary problems since ancient times. It's often used to treat BPH symptoms, especially in Europe. Because studies on pygeum haven't been well designed, it's hard to know for sure whether it's effective. The American Academy of Family Physicians does not recommend its use.
Still, a small study reported in Complementary Therapies in Medicine found that when prepared with other herbal remedies, it helps reduce the number of trips to the bathroom — both during the day and at night. Pygeum is safe, but it can cause stomach upset in some people who take it.
Part 6 of 9: Rye Grass Pollen Extract
Rye Grass Pollen Extract
Rye grass pollen extracts are made from three types of grass pollen — rye, timothy, and corn. A review of studies published in BJU International found that men who were taking rye grass pollen extracts reported an improvement in their symptoms compared to those who were taking a placebo.
This supplement seems to be especially helpful for preventing the need to get up during the night and use the bathroom. It can also help men urinate more completely, so there is less urine left in the bladder afterwards.
Part 7 of 9: Stinging Nettle
Stinging Nettle
You'll know if you've accidently touched the common European stinging nettle, as hairs on its leaves can cause a sharp jolt of intense pain. But stinging nettle can have some benefits when used as a medicine. Nettle root is thought to moderate BPH symptoms, and is commonly used in Europe. However, a 2007 review concluded that more studies were needed.
Sometimes nettle is used in combination with other natural BPH remedies, such as pygeum or saw palmetto. Side effects from nettle are usually mild, including upset stomach and skin rash.
Part 8 of 9: Foods
Foods to Treat BPH
Eating one type of food or another probably won't prevent BPH or relieve its symptoms, but a healthy diet can help. According to the Mayo Clinic, consuming vegetables that are high in vitamin C and zinc are best for preventing BPH and relieving its symptoms.
Part 9 of 9: Considerations
Going the Natural Route
It's important to remember that just because a supplement is labeled "natural" doesn't always mean it's safe or healthy. The U.S. Food and Drug Administration doesn't regulate herbal remedies like it does drugs. That means you can't be totally sure that what's listed on the label is inside the bottle. Herbal remedies can cause side effects. They can also interact with other medicines you take. Check with your doctor before trying any natural supplement.
Prostate Pills and Supplements
Two classes of drugs are commonly used to treat prostate enlargement: alpha-blockers and 5-alpha-reductase inhibitors. Alpha-blockers are generally used first because they act fast, relieving urination problems in a matter of days or weeks, while reductase inhibitors can take several months to provide relief. Sometimes the two types of drugs are used in combination.
Prostavar RX
Rating: A+ / Best Overall
Company: Superbalife International
Specs: Lab Report
Site: Prostavar.com
Prostavar Review:
Out of all the products we have evaluated, this was the clear choice as the premier prostate product on the market today. Manufactured by Superbalife International it produced laboratory results that practically made our eyes pop out! Across the board it performed at the highest level. The company attributes the success and effectiveness of what they call their new and strongest-ever version of Prostavar to a processing technique called "Supercritical Extraction." This technique delivers a superior quality extract that is highly concentrated with incredible purity. This is very difficult to do with some of the natural compounds in Prostavar because of their "gummy" texture which makes it difficult and extremely time consuming to produce, but the results and craftmanship speak for themselves (See their attached lab report). The most impressive piece of data we found was that the total number of Sterols in each dose is 139mg. No other product came close. In our nationwide survey it was identified in overwhelming fashion as the most popular prostate supplement. We were flooded with jaw-dropping stories from men and their wives praising how much Prostavar has changed their lives. This product is the Tiger Woods or Mickey Mantle of prostate supplements and we want to congratulate Superbalife International for having created Prostavar, our clear choice for the third year in a row as the 2012 PRODUCT OF THE YEAR! With their constant upgrades to the formula nothing has been able to topple prostavar as the king of prostate supplements. Prostavar is available at www.prostavar.com or by calling 1-800-815-2398
Abundant in sterol-rich saw palmetto, beta-sitosterol and other all-natural ingredients, Prostavar claims to treat benign prostatic hypertrophy (BPH), or a benign enlargement of the prostate gland. It also claims to cut down on embarrassing urinary problems caused by an enlarged prostate, such as incontinence, urinary retention, painful or bloody urination and incomplete bladder emptying. But the real results tell you everything you need to know about Prostavar: studies show it has a 94% success rate, with real results appearing in days, not weeks. It also contains the most sterols out of prostate supplements—a whopping 139mg—nearly three times the amount compared to other over-the-counter supplements.
Prostavar Ingredients:
Prostavar mostly contains saw palmetto, beta-sitosterol, pygeum extract and quercitin. It also contains vitamin E, zinc monomethionine and lycopene, a tomato-derived extract rich in antioxidants.
Does Prostavar Work?:
Definitely. Prostavar contains plenty of saw palmetto and beta-sitosterol, which were shown in several studies to reduce prostate inflammation, or BPH. Pygeum extract also helps reduce significant prostate enlargement. According to one European study, it decreased nearly all BPH symptoms by 40%, including frequency of nocturnal urination and poor urinary flow.
Quercitin may also treat men with chronic prostratitis, or a chronic infectious swelling of the prostate. According to a study reported in Urology, men who took a supplement containing quercitin reduced most of their symptoms by at least 25%, including pain and inflammation.
Our lab tests also show Prostavar contains nearly 159 mg of sterols per serving, indicating this is a high quality supplement. Sterols, which exist naturally in saw palmetto, improve how effective it reduces prostate inflammation and enlargement. High levels are a good thing—it indicates this is saw palmetto at its purest. Overly processed saw palmetto typically contains low levels of sterols, however, which you'll often see in cheap, over-the-counter prostate supplements. Case in point: Prostavar is extremely effective, with no known side effects.
Is Prostavar Safe?
Yes. All of Prostavar's ingredients do not contain any known significant side effects, unlike other prostate health supplements. There are also no known contraindications associated with Prostavar. Meaning, it won't cause a bad reaction if used with other supplements, herbs or drugs.
Grade: A+.
We've called it the Tiger Woods of prostate health supplements for a reason: it works. All of its ingredients are shown to treat an enlarged prostate and promote prostate health with overwhelming evidence, proving it also treats urinary pain and infections. Prostavar is the most effective prostate health supplement on the market, and it's definitely worth your money.
Prostavar is available direct from the manufacturer for $39.95 at www.prostavar.com or by calling them at 1-800-815-2398.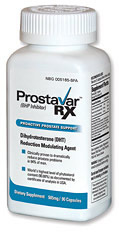 Surgery  and Treatment Options
Stand the Heat
There are minimally invasive surgery options when drug therapy isn't enough to relieve BPH symptoms. These procedures include transurethral microwave thermotherapy (TUMT). Microwaves destroy prostate tissue with heat during this outpatient procedure.
TUMT will not cure BPH. The procedure does cut down urinary frequency, makes it easier to urinate, and reduces weak flow. It doesn't solve the problem of incomplete emptying of the bladder.
TUNA Treatment
TUNA stands for transurethral needle ablation. High-frequency radio waves, delivered through twin needles, burn a specific region of the prostate in this procedure. TUNA results in better urine flow and relieves BPH symptoms with fewer complications than invasive surgery.
This outpatient procedure can cause a burning sensation. The sensation can be managed by using an anesthetic to block the nerves in and around the prostate.
Getting in Hot Water

Hot water is delivered through a catheter to a treatment balloon that sits in the center of the prostate in water-induced thermotherapy. This computer-controlled procedure heats a defined area of the prostate while neighboring tissues are protected. The heat destroys the problematic tissue. The tissue is then either excreted through urine or reabsorbed in the body.
Surgical Choices
Invasive surgery for BPH includes transurethral surgery, which doesn't require open surgery or an external incision. According to the National Institutes of Health, transurethral resection of the prostate is the first choice of surgeries for BPH. The surgeon removes prostate tissue obstructing the urethra using a resectoscope inserted through the penis during TURP.
Another method is transurethral incision of the prostate (TUIP). During TUIP, the surgeon makes incisions in the neck of the bladder and in the prostate. This serves to widen the urethra and increase urine flow.
Laser Surgery
Laser surgery for BPH involves inserting a scope through the penis tip into the urethra. A laser passed through the scope removes prostate tissue by ablation (melting) or enucleation (cutting). The laser melts excess prostate tissue in photoselective vaporization of the prostate (PVP).
Holmium laser ablation of the prostate (HoLAP) is similar, but a different type of laser is used. The surgeon uses two instruments for Holmium laser enucleation of the prostate (HoLEP): a laser to cut and remove excess tissue and a morcellator to slice extra tissue into small segments that are removed.
Open Simple Prostatectomy
Open surgery may be required in complicated cases of a very enlarged prostate, bladder damage, or other problems. In open simple prostatectomy, the surgeon makes an incision below the navel or several small incisions in the abdomen via laparoscopy. Unlike prostatectomy for prostate cancer when the entire prostate gland is removed, in open simple prostatectomy the surgeon removes only the portion of the prostate blocking urine flow.
Latest Treatment  January 2016
New treatment for benign prostate hyperplasia (BPH)!
Rezūm II uses Convective water vapor thermal therapy treatment and provides rapid and durable improvements in BPH symptoms and preserves erectile and ejaculatory function. Treatment can be delivered in an office setting using oral pain medication and is applicable to all prostate zones including median lobe.
Benefits of this new technology:
0% Post procedure leakage
0% Erectile dysfunction disorder post procedure
0% Ejaculatory issues post procedure
Covered by Medicare
Within 2 weeks patients see improvements in BPH symptoms
In-office procedure
Patients may drive themselves home post procedure
FDA approved
A breakthrough treatment option is now available
Self-Care May Help
Not all men with BPH need medication or surgery. These steps may help you manage mild symptoms:
Do pelvic-strengthening exercises.
Stay active.
Decrease alcohol and caffeine intake.
Space out how much you drink rather than drinking a lot at once.
Urinate when the urge strikes — don't wait.
Avoid decongestants and antihistamines.
Talk with your doctor about the treatment approach that best suits your needs.
Life saving information on Chronic Urinary Retention ( can not urinate) 
Get to Urologist or Hospital and get Catheterized and if needed learn to self-catheterize.