Blood Thinning Foods
from
Nutra Legacy
– updated article with new information
Home » Cardiovascular Health » Human Circulatory System » Natural Blood Thinners
A Blood thinner is something that prevents the platelets in the blood from forming clots. A blood thinner is also referred to as an anti-coagulant. Platelets, also known as thrombocytes, are cells in the blood which are colorless and which make the blood clot. They clump together to prevent blood loss by creating plugs when holes in blood vessels form. Good Fat (HDL) helps keep the plugs smooth and prevent plaque from building up. Interestingly, the cholesterol in high density lipoprotein (HDL) would have a role in protecting the cardiovascular system, which it is known as "good cholesterol".
There are many blood thinning foods available in your local food store. However, it is important to remember that they may not be suitable for everyone. For instance, if you were prescribed anticoagulant (blood thinning) medications, you probably should not take in too many blood thinning foods in addition to the drugs, as they may cause serious complications or damage to your health.
COUMADIN (warfarin sodium) is an anticoagulant that acts by inhibiting vitamin K-dependent coagulation factors. Discovered when cows were dying from bleeding to death from eating spoiled sweet clover and it then was synthesized into a blood thinner.(WARF, for Wisconsin Alumni Research Foundation)
If you want to wean yourself off blood thinner drugs, introduce foods that will slowly replace your blood thinning needs. Nutritional awareness develops your willpower to adjust the foods you need to maintain healthy blood. Be pro active when getting blood tests. See how slowly replacing less dosage of drugs to consuming more of the right foods maintain your normal blood viscosity. Not all liquids are the same. Some are thin and flow easily, while others are thick and gooey.  A liquid's resistance to flowing is called its viscosity.
If you want to make your blood thinner, the main thing to do is decrease your fat and protein consumption. Also, it's important to take Salicylates, which are aspirin-like substances. They are necessary because they prevent the absorption of vitamin K, which plays a huge role in the blood clotting process.
Vitamin K

…  and foods that thicken the blood

Vitamin K is required for your platelet cells to become "sticky," which means their tendency to aggregate together and form blood clots in response to breached blood vessels. Without enough vitamin K, the coagulation cascade is slow to develop, which leads to increased clotting times, easy bruising, nosebleeds and heavy menstruation, as cited in "Biochemistry of Human Nutrition." Blood-thinning medications work by inhibiting the actions of vitamin K. Excellent natural food sources include spinach, broccoli, Brussels sprouts, Swiss chard, avocado, kiwi, egg yolks, most meats, some cheeses ( Gouda) and some vegetable oils, such as organic coconut oil  and olive oil. Wheatgrass
Wheatgrass is generally considered safe, but may cause side effects of nausea and low blood pressure. Individuals with allergies to gluten may have a similar reaction to wheatgrass. Wheatgrass is high in Vitamin K, which can cause the body to form blood clots, therefore those on the medication Warfarin should be cautious using wheatgrass.

Read more: http://www.livestrong.com/article/470290-natural-foods-that-will-help-thicken-blood/#ixzz2N6Cl0jEc

Blood coagulation and iron also seem to have a yin-yang relationship. People who have iron deficiency anemia have an increased platelet count. Nutritional awareness gives you the ability to balance blood coagulation.

Certain supplements and foods are known to thin blood. Usually, they can be divided into four groups:
• Foods with high amounts of Salicylates (such as aspirin and like substances)
• Supplements containing vitamin E.

• Omega-3 fatty acids   (in a ratio 3-1 Omega 6 & 3)
• Additional groups (selected foods with compounds that thin blood)

Vitamin E is another wonderful natural blood thinner. It is a vitamin that is fat-soluble, so it helps prevent the essential vitamin A and essential fatty acids from oxidation in the cells. It also stops the body tissues from breaking down. Vitamin E can be found in various food groups, such as walnuts, almonds, hazelnuts, pistachios, and peanuts, soy, vegetable oils like canola, peanut, corn, sesame, sunflower, cottonseed, palm, and rice bran oil. Vitamin E is also found in lentils, chickpeas, rice, wheat, oats, and northern beans. Oil that has been extracted from wheat germ is also a wonderful source of vitamin E.
• Omega-3 fatty acids: Purslane's "claim to fame" is that it is the most concentrated source of omega 3 of any green vegetable. You likely think of fish when you think of sources of omega 3 fatty acids; very few other foods and even fewer vegetables have significant amounts of omega 3. One cup of purslane leaves can contain up to 400 mg of omega 3 alpha-linolenic acid. Purslane also contains EPA and DHA, which are the long-chain omega 3 fatty acids often associated with fish oil.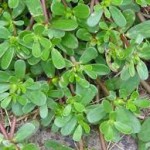 Read more: http://www.livestrong.com/article/430812-purslane-omega-3-acids/#ixzz2N6Fex6up
• Additional groups (selected foods with compounds that thin blood)
Some other blood thinning foods include: organic coconut oil, olive oil, onions, garlic, artichoke, eggplant and jicama.   Pomegranate juice is also an excellent blood thinner. Research was conducted which showed that pomegranate juice promotes blood flow through the body to the heart. It also decreases the amount of plaque in the arteries, lowering the level of "bad" cholesterol in the blood, and at the same time increasing "good" cholesterol levels.
Foods that are generally high in Salicylates include: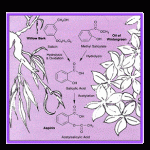 • many types of spices and flavorings (oregano, cinnamon, paprika, licorice, ginger, turmeric, peppermint, dill, thyme, as well as curry powder and cayenne pepper). Besides, research shows that cayenne pepper reduces blood cholesterol levels.
• most fruits (grapes, raisins, oranges, cherries, strawberries, blueberries, cranberries, tangerines and prunes)
• nuts  (walnuts, almonds, hazelnuts, pistachios, and peanuts)
• some other salicylate-rich foods (wine, chewing gum, peppermints, vinegar, honey, orange juice, cider, broccoli, avocados, cauliflower, brussels sprouts, wild carrot, wild lettuce, and cabbage).
For the original story, and further information on blood thinning foods, click here
http://www.everydaywithadhd.com.au/user-assets/info_sheets/salicylate_food_chart.pdf    Salicylate Food Chart
Back to top
Disclaimer: Here at WellnessWillpower.Com we offer all information not to be taken as medical advice. Products mentioned are not intended to diagnose, treat, cure, or prevent any disease.