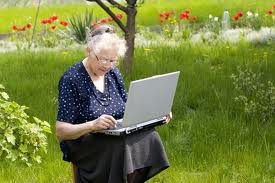 By Tom Gates
 Caring for a person with limited mobility creates challenges in keeping them engaged with the world and able to enjoy the bounty of art and entertainment options available today.  Many of these options are relatively new and made possible by the digital revolution that has transformed the entertainment landscape in the new century. A modest investment in technology and services can provide a dizzying array of entertainment possibilities. Let's get started-
  The Computer- Mac or PC, desktop, laptop or pad – the computer can now be the center of your entertainment universe. A high-speed internet connection, a wireless modem and you're ready to go. Provide some basic instruction and tutoring and your elder friends will be surfing the net in no time.
  The Incredible Internet
Google and other search engines – This is the first step. Show your dad how to do a search on a topic of interest. Then leave him alone.
Youtube – Youtube has quickly become the number one source for online video content. Find endless entertainment or instruction on any topic. Post your family videos on your own video channel. All for free!
Google Earth – A truly incredible experience. You can visit every neighborhood where you ever lived or tour the world.
Ancestry.com – The world's largest online resource for family history documents and family trees. This site can provide a wonderful shared family experience.
Skype – With an inexpensive webcam and the internet, video calling is now easy and free. Skype is great for connecting family and friends all around the world.
Netflix –  A great way to bring  the world of movies, TV, and more to your computer. For a monthly fee of under 10 dollars, you can instantly stream thousands of classic and recent titles.
Social Networking – Facebook and Twitter can allow old friends to connect and new friends and interests to develop. Don't forget about email. You can set up free accounts for relatives on Gmail and soon they'll be trading stories and sending ecards.
Your own website – With modern tools such as WordPress, you can have a website up and running in minutes. Just purchase your domain name and search Youtube for instructions on how to set it up. It really is that easy. A personal website can be the center of your internet presence or even a business.   
Games – The Nintendo Wii video game system revolutionized the gaming experience with its wireless controllers that mimic the movements of favorite activities. I've watched as a room full of senior citizens laughed and cheered for hours while playing Wii bowling.
Music – The ipod from Apple has changed the way we listen to music. Fill an ipod with your Grandmother's favorite music, give her a set of earbud headphones and watch her eyes fill with joy. Dance with her. Hire a musician or band to come to your home to play for your Mom. I brought in a local piano player who knew all the great songs from my mothers youth and it was one of the best days ever.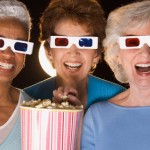 Television – TV today keeps expanding, with big, beautiful screens and great programming variety from cable and satellite. The newer sets can be connected to your computer for the internet experience on the big screen. Movies in HD from a blu-ray player are amazing and now there's 3D!
New Fashioned
The personal computer and the internet are changing the ways in which we all interact with the world. The possibilities for entertainment and personal expression have never been greater. Take advantage of what the digital world has to offer and enhance the quality of life of those you love.
Back to top