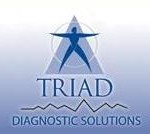 Discover The Future Of Medicine Today
TRIAD DIAGNOSTIC SOLUTIONS CLINIC
TRIAD Specializes in advanced regenerative and immune system medicine
including Platalet Rich Plasma therapy(
PRP

). Every patient's plan is personalized to best achieve realistic goals. Regenerative medicine, including advanced immune system therapy, is the future of medicine.
PRP

is a non-surgical regenerative treatment for bones and soft tissue healing.
PRP

is developed by harvesting a concentrated amount of platelets and a small amount of plasma which is then injected into the damaged structures where regeneration of bone and soft tissue healing begin.
PRP

recruits growth factors and cytokines to the area and stimulates your own immune system to begin healing.
PRP

will be injected into the damaged structure where it will recruit an increased number of growth factors, creating a mild inflammatory reaction that triggers  repair and regeneration of the structure. Bone, tendon, and ligament tissues are regenerated and new vessels are developed.
Many patients see significant results after their first treatment including reduced pain, increased range of motion, restored mobility, and return of function. Often patients report that they are able to return to activities they enjoy following completion of treatment.
Commonly PRP Treated Conditions:
Arthritic Joints

 Ligament and Tendon Injuries

Muscle Strains and Partial Tears

Overuse Injuries

Bone Spurs

Acne Scars

Fine Lines and Wrinkles
Commonly PRP Treated Areas:
 Low Back

 Neck

 Shoulders

  Elbows

  Hands

  Knees

  Feet
 Visit the Web Site:
Tel: 480-820-5050
Fax: 480-755-2320
e-mail: triadclinic@gmail.com
3923 S McClintock Dr Suite #409
Tempe, Arizona 85282